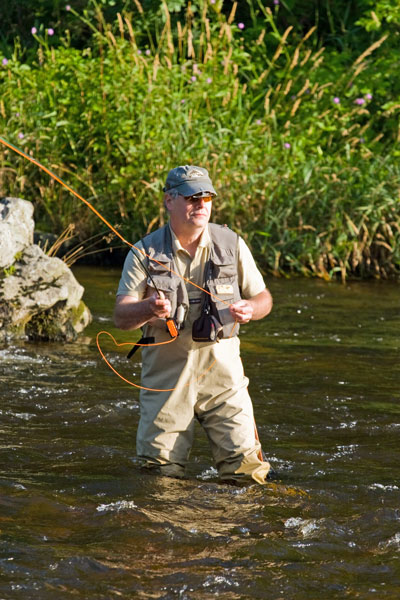 Dear fans of sport fishing,
I would like to offer you a
fly-fishing course
lead by me personally, in which I will try to pass my vast knowledge and years of experience in-fly fishing on you. I have been interested in fly-fishing since I was thirteen. Professionally, I have worked in fly-fishing since 1990 and my company also manufactures and exports fly-fishing products.
I was a member of the Czech national fly-fishing team at the World Championships in Great Britain in 1990 where we won a gold medal in the team competition. I also attended the World Championships in Italy (1992) and Canada (1993). In the years 1995-2002 I was a guest at the International Fly Tying Events Symposium and Fly Fishing Conclave (USA), as fly tier of Czech flies. I take part also in similar events in Europe (Netherlands, Belgium, Germany, Denmark, Finland, Norway, and Portugal).
I organize courses of Czech Nymph fishing for my Czech and foreign clients for many years and I work as a fly-fishing guide in the Šumava too. I prefer fly-fishing in the Šumava rivers Otava, Křemelná, Vltava or Volynka. I also enjoy fly-fishing in Scandinavia, Slovenia and Poland. Trout, grayling and salmon are my favourite species to catch. I prefer catching on the dry fly, nymphs and streamers.
Jan Šiman
---
What do you get in the package "Fly fishing course with Jan Siman"
In my fly-fishing course you will learn casting with a fly-fishing rod and fly line using modern fly-fishing equipment. You will practice fly-fishing for trout and graylings via various methods and will tie your first artificial fly. You will see how to gently handle the caught fish. For advanced participants we can focus the course on popular Czech or French nymphing. Our motto is "Catch and Release", so we prefer the hooks without a barb.
All the necessary equipment for beginners is provided (wading pants, rod, line, flies, leaders). In case of bad water conditions in the Otava River - the practical fishing will be placed to another river or still water.
Courses take place from mid- April to late November, the term must be booked in advance.
Participants can buy fly fishing equipment, flies, fly tying materials and other products during the course.
Where does it take place
The course takes place at the Otava River in the National park Šumava - West Bohemia. Accommodation is provided in a family hotel Hotel Gabreta
Price of package "Fly-fishing course with Jan Šiman" includes
- fly-fishing orientation lead by me personally
- accommodation in the hotel for 2 nights
- full board catering: 2x breakfast buffet, 2x lunch package with drink, 2x dinner (appetizer, main course, dessert).
- a set of artificial flies for fishing on the Otava - certificate of course completion
- fly-fishing equipment rental (if you do not own one)
- a two-day fishing permit
Schedule
1st day (Friday)
- arrival and accommodation at your hotel 6:00 to 7:00 p.m.
- dinner 7:00 p.m.
- lecture about fly-fishing equipment, fly-fishing rules in the Czech Republic

2nd day (Saturday)
- 7:30 to 8:30 a.m. breakfast
- 8:30 to 10:30 a.m. assembling fly-fishing rods, fly casting and practical training
for advanced participants - any fly casting bad habits elimination
- 11:00 a.m. to 5:00 p.m. practical fly fishing on the Otava river, lunch by the water
- 6:00 p.m. to 7:00 p.m. dinner
- 7:00 p.m. to 9:00 p.m. tying flies, fly-fishing knots, questions, bowling

3rd day (Sunday)
- 7:30 to 8:30 a.m. breakfast, certificate handing over
- 8:30 a.m. to 5:00 p.m. practical fly-fishing on the river Otava, lunch by the water
The price package does not contain
- participants insurance (accident, damage to fly-fishing equipment by participants)
- beverages from the minibar in the hotel room, drinks (except breakfast)
Applications
order on-line
or use contact link:

Jan Siman - Fly Fishing, Vodni 146, 342 01 Susice, Czech Republic
Phone: +420 775 107 441
email: info@siman.cz | www.siman.cz | www.goflyfish.cz
We need following information from each course- participant
- name, surname, date of birth, address, email, phone number
- the term of the course that best suits to you and other possible dates
- fly-fishing experience - select an option and send by e-mail to us
- no fisherman - never have held a fishing rod in hand
- a fisherman but never try fly fishing
- fly-fisherman beginner
- fly-fisherman advanced
- you need to rent waders YES or NO
- you need to rent a fly rod with a fly line YES or NO
- member of the Czech Fishing Union YES or NO
- state fishing license holder for the Czech Republic YES or NO
- you have a valid fishing permit for river Otava YES or NO
- do you have any medical restrictions YES or NO, if yes, what
- do you have to obey any special diet YES or NO if yes, what

Variants of course packages "Fly Fishing with Jan Šiman"
EXCLUSIVE
- experience for 1 person
- all inclusive accommodation in single room
- Jan Šiman is dedicated to only one participant
- package price: 656 Eur
- order on-line

PREMIUM
- experience for 2 persons
- all inclusive accommodation in a double room
- Jan Šiman is dedicated to two participants
- package price for 2 participants is 554 Eur / 1 person
- order on-line

GROUP
- experience for a larger group of participants
- price will be determined by number of participants
- contact us

Payment
- 50% advanced payment by bank transfer or credit card
- the remaining balance at the hotel reception upon arrival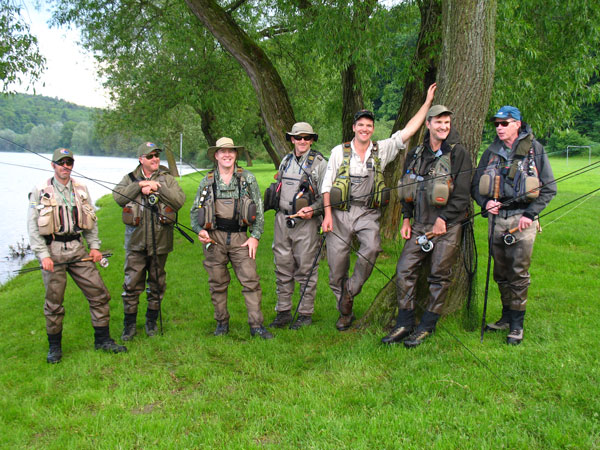 Australian fly fishing team at Czech Nymph Masterclass by Jan Siman
Back