H5D series comes in sizes from medium to very heavy fly fishing. It's 100% water proof and has the superior D-VTCS drag with a unique material. This gives us the benefits that we need to have successful fishing. They are light and durable, designed for hard conditions. Drag can be configured in 5 levels, giving you exactly the reel that you want. H5D series is the choice if you know that you are going to encounter large fish, they will holp up.
These are reels for absolute professional use
All rotating parts are sealed, pressure tested to 100m (D-TES).
Unique drag material, always smooth and powerfull. Regardless of temperature and speed.
Drag system is configurable in 5 levels (D-VTCS).
Drag knob with min-max setting within 330 degrees (D-FOPS). Min setting can be adjusted.
Salt water proof. Anodized aluminium and stainless steel.
Clicker in both directions (can be turned of).
Easy spool change system (D-SLS).
Fast line retrieves.
Very durable design.
---
Technical data H5D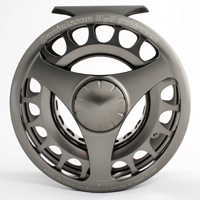 Danielsson H5D 9thirteen
How often do we have the opportunity to fish for large Tarpon or Salmon. And when we do that we must be prepared. The H5D 9-13 is the ultimate reel for large powerful fish, the ultimate fishing friend. Tuff & strong. The drag will stop the most powerful fish. We deliver the 9-13 in drag level 5. It is also very easy to change between left & right handed retrieve.
Model: 9thirteen
Line: 9-13
Capacity: WF11F-190m 30lbs
Weight: 247 gr
Outerdiameter: 108 mm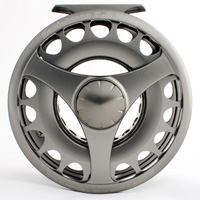 Danielsson H5D 11fourteen
Except from the Control reels this is our biggest, it carries a lot of backing. It perfectly carries large spey lines and longer two handed rods. If you own this reel you can fish for record Tarpoons and brutal Atlantic Salmon. The drag will have no problems stopping them. The drag is not only powerful but also silk smooth in every setting. We deliver the 11-14 in drag level 5. It is also very easy to change between left & right handed retrieve.
Model: 11fourteen
Line: 11-14
Capacity: WF12F-275 30lbs
Weight: 272 gr
Outerdiameter: 118 mm