This reel hardly requires any further presentation. The Danielsson Original set a new standard for fly reels all over the world when it was introduced in 1983.
The Original reel permanently changed our view of fly reels and their function. The unique construction and design are a response to, in our opinion, the inferior reels that were previously on the market.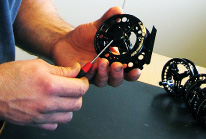 The model is still unrivalled with respect to low spool weight and the capacity to set a low start resistance without overspin.
The Original is probably the most coped reel in the world, which more than anything else is proof of a winning concept.
The Danielsson Original is characterised by:
Housing and spool made of high-tensile aluminium.
Components made of acid-proof steel.
Low spool weight counteracts overspin.
Low total weight and good balance.
Quick line retrieval.
Design that makes cleaning easy.
---
Technical data Original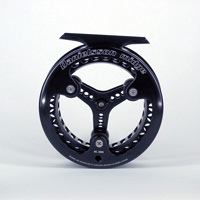 Danielsson Original Midge
The perfect reel for the lightest fishing: a lightweight, large arbor model made for light lines and the lightest tippets. The Midge's low weight balances small rods nicely.
Model: Midge
Line: 0-2
Capacity: WF2F-18m 20lbs
Weight: 78 gr
Outer diameter: 83 mm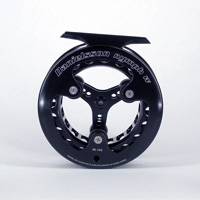 Danielsson Original Nymph W
The outstanding reel for light fishing. Large arbor and smooth action made for light tippets capable of larger fish.
Model: Nymph W
Line: 0-5
Capacity: WF4F-73m 20lbs
Weight: 90 gr
Outer diameter: 83 mm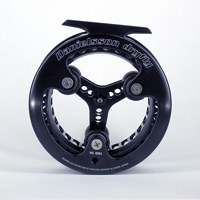 Danielsson Original Dry Fly
An ideal reel for fishing with modern single handed rods for trout, greyling and more.
Model: Dry Fly
Line: 2-7
Capacity: WF5F-73m 20lbs
Weight: 130 gr
Outer diameter: 95 mm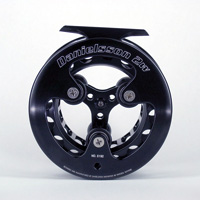 Danielsson Original 2W
The obvious choice for heavier single-handed and lighter two-handed fishing, and is well suited for fish as large as salmon, seatrout, steelhead and more.
Model: 2W
Line: 5-9
Capacity: WF9F-200m 20lbs
Weight: 160 gr
Outer diameter: 95 mm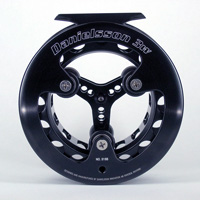 Danielsson Original 3W 3w This is the classic model to use for all two-hand fishing for any salmon, seatrout or steelhead. The slighly heavier reel balances heavier rods well.
Model: 3W
Line: 8-12
Capacity: WF10F-157m 30lbs
Weight: 190 gr
Outer diameter: 108 mm